Clinical trials in Slovakia
Slovakia. Country Overview

Slovakia, officially the Slovak Republic, is a landlocked country in Central Europe. Slovakia has a population of over 5.4 million.

Slovakia has been a member of the EU since 2004. The legislation on clinical trials has been harmonized with the EU. Slovakia offers a good environment for conducting clinical trials.

The number of available hospital beds in Slovakia is about 31, 016 beds. In 2020, there were approximately 20 thousand physicians in Slovakia. There are currently 31, 309 nurses working in the Slovak healthcare system. There are 44 public hospitals in Slovakia.

The largest cities in Slovakia are Bratislava (583, 600), Košice (355, 047), Žilina (108, 114), Prešov (91, 352).

In 2019, health expenditure in Slovakia accounted for 7.0% of GDP, much lower than the EU average (9.9%). Despite this relatively low level, access to healthcare in Slovakia is generally good, with only 2.7% of the population reporting unmet medical needs. Slovakia has a compulsory social health insurance system. In theory, coverage is universal. A small proportion of the population (5% in 2019) does not contribute and is not covered. Spending on health remains well below the EU average. Moreover, out-of-pocket payments in Slovakia consist mainly of co-payments for outpatient prescription drugs and user charges for health services. Given that patients have to pay some out-of-pocket costs, some patients are eager to participate in clinical trials in order to receive free treatment and have access to modern medicines. The high proportion of out-of-pocket expenditure on medicines has been a long-standing problem in Slovakia, so patients are interested in gaining affordable access to new medicines through clinical trials.

The average salary in Slovakia was 16, 085 euros per year in 2021. The cost of living is around 1000 euros per month. The standard of living in Slovakia is comparable to other Eastern and Central European countries, which are typically lower than Western European countries. Sponsors choose Slovakia as a location for clinical trials because of the comparatively low cost of labor and clinical trials associated costs.

Ischaemic heart disease remains the leading cause of death in Slovakia, accounting for one in four deaths: the fourth highest mortality rate from this condition in the EU.

Cancer mortality is also very high. In 2016, Slovakia had the third highest cancer mortality rate in the EU after Hungary and Croatia - more than 20% higher than the EU average. Lung and colorectal cancer are the most common causes of cancer deaths among Slovaks, although the death rate from these two cancers has decreased slightly over the last 15 years. It is estimated that about half of all deaths in Slovakia are due to behavioural risk factors, including dietary risk factors, tobacco smoking, alcohol consumption and low physical activity. The high prevalence of smoking among both adults and adolescents remains a major public health concern in Slovakia. Slovakia may be a choice for clinical trials in cardiovascular diseases and cancer.

Investigators are ICH GCP experienced, well trained, motivated and provide very high-quality data.

Most Slovak CRAs are physicians, which leads to excellent relationships with investigators and high-quality data.

Clinical trial environment

As of April 2023, clinicaltrials.gov reported 1992 trials in Slovakia. There are 277 ongoing interventional industry-sponsored clinical trials in Slovakia. The distribution of ongoing trials by phase is as follows: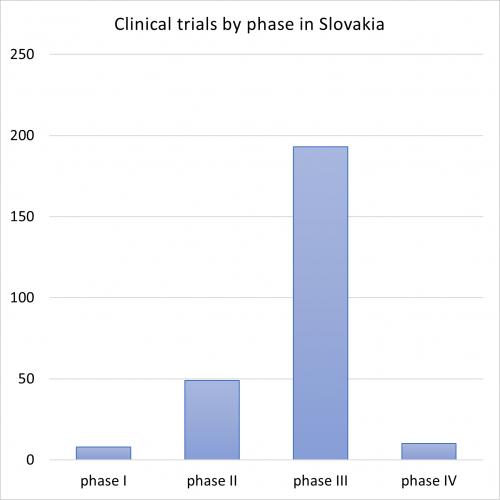 Slovakia contributed to the registration of several new drugs in the USA in 2022. The FDA registered 37 new drugs. Clinical trials for 7 of the new drugs were conducted in Slovakia.
Quality of clinical trials in Slovakia
The quality of clinical trials in Slovakia is high. There were 5 FDA inspections. 2 resulted in NAI and 3 resulted in VAI, where NAI is no action indicated (no objectionable conditions or findings) and VAI is voluntary action indicated (objectionable conditions or findings but not serious enough to recommend regulatory action).
The regulatory environment in Slovakia
Slovakia is a member of the EU and therefore fully complies with European clinical trial regulations.
From 31 January 2022, a new regulation to simplify and harmonize clinical trials in the EU will replace the European Union (EU) Clinical Trials Directive 2001/20/EC (EU-CTD). The EU Clinical Trials Regulation 536/2014 (EU-CTR) aims to replace the EU-CTD.
As a regulation, the EU-CTR is binding on all EU Member States in its entirety - a key difference from the EU-CTD. It aims to increase transparency and restore the competitiveness of EU clinical research by reducing administrative requirements and streamlining workflows.
The EU-CTR applies to trials conducted in one or more EU Member States.
Summary. Clinical trials in Slovakia
Slovakia offers several advantages for clinical trials:
High quality of data;
Motivated investigators;
Patients interested in clinical trials as a choice for access to modern medicines;
Country of choice for oncology and cardiology trials;
Transparent regulatory requirements harmonised with EC directives;
Competitive costs.
Smooth drug development — a CRO in Slovakia
With a presence in Slovakia, Smooth Drug Development offers both full-service clinical trials and stand-alone services to trial sponsors. We provide the following services to our clients in Europe for Phase I-IV projects and observational programs:
Project Management;
Regulatory support;
Medical Writing;
Biomedical Statistics;
Study feasibility;
Data Management / IWRS;
ePRO;
eTMF/eISF Service;
Logistics and storage;
Clinical Monitoring;
Centralised Monitoring;
Medical Monitoring;
Pharmacovigilance;
Central Laboratory;
Patient Logistics;
Clinical Trial Report.