Clinical trials in Turkey
Turkey. Country Overview
Turkey is an underrated country for clinical trials. There are several reasons to conduct clinical trials in Turkey.
The country has a large population. As of 31 December 2022, the population of Turkey was 85.2 million with a growth rate of 0.55% per year.
The country's population is very diverse. Turkey links the Middle East, Europe and Asia, and has experienced large population movements.
Turkey has a well-developed universal healthcare system and still has a relatively low number of clinical trials per capita. Statista reports that by 2020, a staggering 98.5% of the population of Turkey will be covered by public health insurance. This covers laboratory tests, medicines, medical devices, medical consultations and many other services As of 2020, the total number of the hospitals in Turkey reached over 1.5 thousand including the public, private, and university hospitals. The country's biggest and most populous city, Istanbul had 232 hospitals.
As of 2020, the total number of public hospitals in Turkey amounted to 900 units. The country's biggest and most populous city, Istanbul had 54 public hospitals while the number of the public hospitals in the capital city Ankara totaled 36 facilities.
The total number of private hospitals in Turkey amounted to 566 as of 2020. The largest city in the country, İstanbul had 162 private hospitals in the same year. Additionally, Ankara and İzmir followed, reaching a number of 37 and 30 private hospitals, respectively.
In 2020, there were over 171 thousand healthcare physicians employed in Turkey. Since 2009 this number has climbed year-on-year from less than 119 thousand physicians at the start of the provided time interval. As a ratio, this results in an average of 517 citizens to each physician in Turkey in 2019.  
Turkey has developed a reputation for having an advanced medical system and high-quality healthcare, evidenced by the fact that it is one of the top 10 destinations for medical tourism in some indications.
Turkey has some of the largest cities and metropolitan areas in the world. Turkey's most populous city is Istanbul, with a population of over 11 million. As well as being the largest city in Turkey, it is also the 8th largest city in the world. Turkey's next largest city, Ankara, has a population of 3.5 million. Turkey also has four other cities with more than one million inhabitants, 72 cities with between 100,000 and 1,000,000 inhabitants, and 424 cities with at least 10, 000 inhabitants. The majority of Turkey's population lives in its urbanized cities, which makes it easy to conduct clinical trials as large clinical trial sites are concentrated in large cities with big hospitals and big patient populations.
The literacy rate of the population is quite high, more than 95%, which makes Turkey a good place for clinical trials because most of the population can read and write. Patients can understand an informed consent form, and there should be no anxiety surrounding the informed consent process.
Turkey has a long history of conducting clinical trials. The first mention of clinical trials in a legal document was in 1926; the law "The Code of Pharmaceutical Products and Preparations No. 1262" stated: "Experimental drugs may be used in a patient only with his consent". The modern era of clinical trials began in 1993 with the introduction of the Drug Research Law. This document was directly influenced by the early drafts of the ICH-GCP guidelines, and some parts were very similar. It became the main document regulating the conduct of clinical trials in Turkey. A GCP guideline document was added in 1995, followed by Good Laboratory Practice (GLP) and Good Manufacturing Practice (GMP) guidelines, also published and issued by the Ministry of Health.
Turkey is involved in global economic activities; all major pharmaceutical and biotechnology companies are present in Turkey, setting a high standard for quality for clinical trials in Turkey. Local pharmaceutical companies match the high-quality standards of global companies in conducting clinical trials. The country now has more than 100 pharmaceutical plants, 33 R&D facilities reflecting a well-developed pharmaceutical industry in Turkey.
The cost of living in Turkey is comparatively low. It is ranked 125 out of 140 for cost of living (Bemuda and Switzerland are ranked first and second and Egypt and Pakistan are ranked 139th and 140th). The average per capita income in Turkey is quite low at USD 825 per month (for comparison, US citizens earn 5, 911 USD). This makes Turkey financially attractive to conduct clinical trials in Turkey compared to the US and Western Europe.
Clinical trial landscape in Turkey
According to clinicaltrials.gov, the number of clinical trials, including observational and interventional studies, funded by industry, sponsors and academia is steadily increasing in Turkey. Since 2011, there has been a steady annual increase in the number of clinical trials in Turkey. In the first quarter of 2023, the number of trials already reached the number of 967 trials.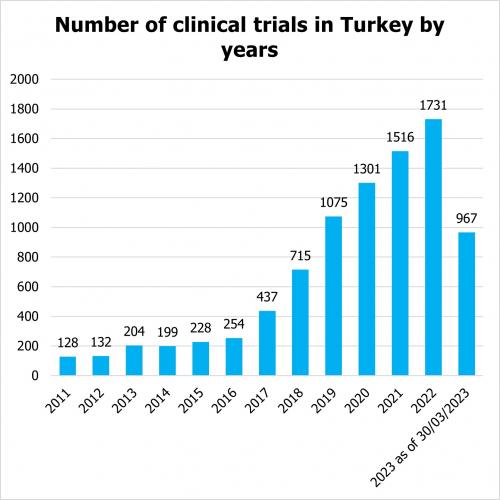 According to clinicaltrials.gov there are 2, 699 clinical trials which are registered as active (not yet enrolling, enrolling, enrolling by invitation, active, not recruiting) as of 2023. Out of them there are 750 interventional studies that are industry sponsored trials. The distribution across phases of clinical trials in Turkey is as follows: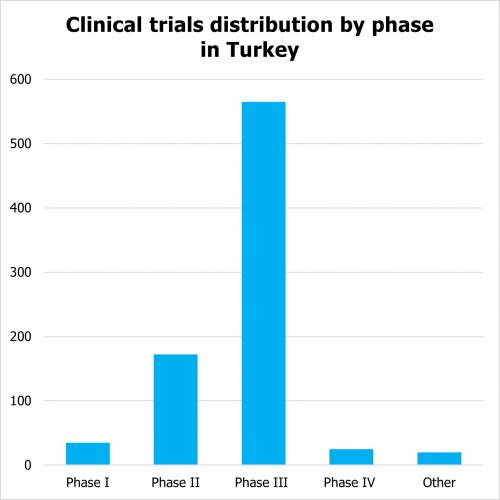 Clinical trials conducted in Turkey cover all major therapeutic areas. Clinical trials in Turkey also include pediatric trials. For example, as of 30/03/2023 there were 83 pediatric trials in Turkey.
Turkey has ample room for growth to increase its share of global clinical research, given its large population.
Turkey can further improve and become a leader in the broader region of the Middle East and Central and Eastern Europe to become a top 10 global clinical research country.
Regulatory landscape for clinical trials in Turkey
Clinical trial applications for both pharmaceuticals and medical devices are submitted to the Turkish Pharmaceuticals and Medical Devices Agency (TİTCK).
Clinical trials must be conducted at sites dedicated to clinical research with appropriate staff, equipment, and laboratories.
For clinical trial applications related to pharmaceuticals and medical devices, the sponsor of the clinical trial must first apply to TİTCK and the Ethics Committee. TİTCK and EC approvals are granted in parallel. TİTCK and EC approval can be obtained in 4-6 weeks if no questions are raised.
Most documents can be submitted in the English language. Patient-related documentation, insurance and protocol synopsis must be submitted in Turkish. It is not necessary to submit an IMPD or go through the QP release process to initiate a clinical trial in Turkey.
The sponsor may also appoint a Contract Research Organisation (CRO) based in Turkey to submit the application.
If the sponsor does not have a representative in Turkey, the clinical trial application must be submitted through a CRO located in Turkey.
Import and export licenses are required to import the investigational product into Turkey and to export samples out of Turkey.
Quality of clinical trials in Turkey
There were 4 FDA clinical Investigator Inspections in Turkey according to www.fda.gov/. The findings were 3 NAI (No Action Indicated) and 1 VAI (voluntary action indicated).
Summary. Clinical trials in Turkey
The country has built a great infrastructure for clinical trials, which is why many sponsors choose Turkey for their next clinical trials. The advantages of performing clinical trials in Tukey in brief are:
Big population;
Large number of sites and investigators;
Developed clinical trials infrastructure;
Higher percentage of treatment-naive patients interested in participating in clinical trials and easy access to them compared to Western Europe and the USA;
Full compliance with GCP and quality standards;
Low number of studies per patient;
Moderate clinical research costs and investigator fees;
Concentration of sites in major cities;
EU QP statement is not required to initiate a trial in Turkey;
No IMPD required to initiate a trial in Turkey;
No need to translate clinical trial documents into Turkish.
Smooth Drug Development — a CRO in Turkey
Smooth Drug Development is a full service CRO in EAEU, CIS, EC, Middle East and India. Smooth Drug Development has an experienced local team to effectively manage clinical trials in Turkey. Our experienced team in Turkey delivers exceptional data quality, reliable results within study budget.
Smooth Drug Development has in-depth local experience and knowledge of the region which translates into rapid regulatory approval, rapid site contracting and exceptional patient recruitment in Turkey.
If you are considering conducting clinical trials in Turkey or an international study with clinical research sites in Turkey, our team will be happy to answer any questions you may have about clinical trials in Turkey.
Smooth Drug Development partners with leading clinical research sites and Site Management Organizations in Turkey.
Smooth Drug Development has capabilities to provide full spectrum of clinical trials services for phase I-IV trials and observational studies in Turkey:
Project management;
Regulatory support;
Medical writing;
Biomedical statistics;
Study feasibility;
Data management / IWRS;
ePRO;
eTMF/eISF service;
Logistics and storage;
Clinical monitoring;
Centralized monitoring;
Medical monitoring;
Pharmacovigilance;
Central laboratory;
Patient logistics;
Clinical study report.