Quality management system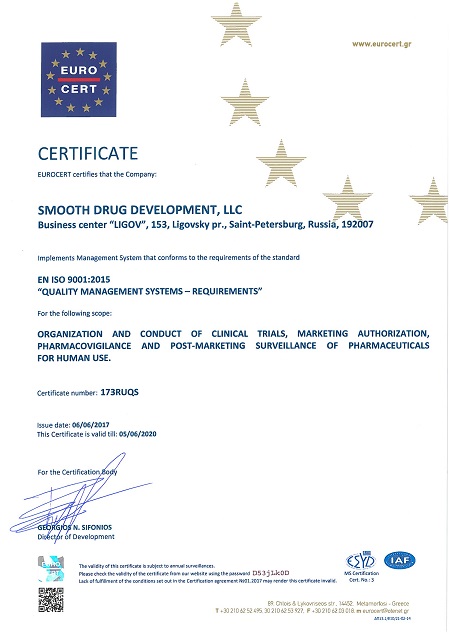 Effective quality management improves performance of company's resources by avoiding delays and losses due to eliminating inconsistencies and reducing regulatory risks and, as result, reduces time and costs of clinical trials.
Smooth Drug Development has implemented and maintains a quality management system according to the standard ISO 9001 "Quality Management Systems – Requirements" for all aspects of operations. The main features of the standard are process approach, risk and change management, vendor management, quality control and a cycle of continuous improvement.
The quality management system includes quality assurance and control, risk assessment, monitoring of processes, training system, work permit and regular assessment of personnel.
Employees are regularly trained in GCP and other guidelines of ICH, local regulations, as well as standard operating procedures of the company. After the training they pass knowledge testing.
The quality management system includes:
Quality objectives
Organizational structure of the company
Standard Operating Procedures
Instructions and standard forms
Job Descriptions
Personnel Training Program
Internal Audit Program
Process Monitoring Plan
Vendor audit
Customer and vendor feedback analysis
In 2014 Smooth passed its first certification according to ISO 9001:2008 "Quality Management Systems – Requirements" done by EUROCERT Α.Ε.
In 2017 our company successfully passed the certification for compliance to the new standard ISO 9001:2015.
Comparison of quality management systems
| | | | |
| --- | --- | --- | --- |
| System elements | Basic QMS | Advanced QMS | Smooth QMS |
| Human resources management | ✓ | ✓ | ✓ |
| Standard Operating Procedures | ✓ | ✓ | ✓ |
| Employees' personal files | ✓ | ✓ | ✓ |
| Work permit and employees' performance assessment | ✕ | ✓ | ✓ |
| Records administration | ✕ | ✓ | ✓ |
| Vendor management | ✕ | ✓ | ✓ |
| Training and performance control | ✕ | ✓ | ✓ |
| Internal quality audit | ✕ | ✓ | ✓ |
| CAPA | ✕ | ✓ | ✓ |
| Clients' satisfaction analysis | ✕ | ✓ | ✓ |
| Process approach | ✕ | ✕ | ✓ |
| QMS manual | ✕ | ✕ | ✓ |
| Quality goals, management leadership | ✕ | ✕ | ✓ |
| Risk management | ✕ | ✕ | ✓ |
| Changes management | ✕ | ✕ | ✓ |
| Processes monitoring | ✕ | ✕ | ✓ |